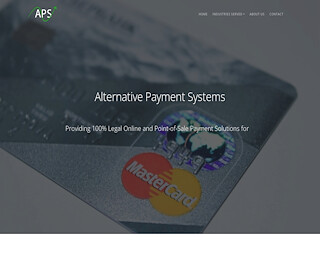 APS can help you get approved for your hemp oil merchant account. We exist as the best alternative to conventional banks and lenders who consider the hemp and cannabis industry high-risk, typically rejecting merchant accounts and leaving merchants with no way to process credit card payments online. If you're currently having trouble getting set up online or in-store, feel free to contact our team for fast and affordable solutions.
What is a Merchant Account?
If you own a website featuring products or services for sale, you'll need a way to collect payments from customers. You may have thought that placing a PayPal button here or there would eliminate the need to process credit cards, but the fact is that 98% of your website's visitors will be looking for a way to seamlessly pay with their MasterCard or Visa- and many of them will not have a PayPal account or wish to use PayPal. Alternative Payment Systems specializes in helping our clients in the hemp, CBD, and cannabis industry avoid the pitfalls associated with setting up their merchant account. Don't let your high-risk label force you to pay more for your hemp oil merchant account- call us right away.
Will I Pay More For a High-Risk Merchant Account?
Fees and rates will vary significantly from one service provider to the next, but you can expect to pay more for a merchant account in a high-risk industry. When you choose APS for your hemp oil merchant account, we'll compare rates from more than 40 of our partner lenders, helping you find the lowest prices and the best services to meet your needs. Consider us when your website or brick-and-mortar store location needs a reliable way to accept multi-payments from customers. We are here to serve you, and as such, will work closely with you to find the right solution.
Why APS?
Alternative Payment System will help your business thrive in a high-risk, highly-competitive industry. Currently, most hemp, CBD, and cannabis websites are only able to accept Bitcoin and wire transfer payments, while most local dispensaries take only cash. As much of your competition remains unwilling to go the extra mile to provide a way for customers to purchase using their credit card, your merchant account will prove to your customers that you're serious about meeting their needs. We can help you with quick approval and set up so you can start growing your business and accumulating sales.
Improve Your Bottom Line
Let's face facts- the only way you'll see consistent sales is by partnering with a lender who can cut through the red tape and make a way for your website or store to encourage sales. At APS, we know what you're facing because we work exclusively with clients in the cannabis, hemp, and CBD industries. If you need a hemp oil account, you'll only waste time going to your bank and asking for assistance. We're the best possible choice when you're ready to get serious about your business.