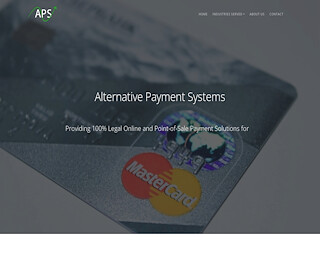 Finding a credit card processor for CBD products can be a stressful ordeal. Finding a credit card processor for CBD products that doesn't cost you an arm and a leg; now that can be impossible! Alternative Payment Systems is an alternative credit card processor for high-risk merchants whose applications have been denied by other banks. To date, we've helped thousands of CBD merchants who previously thought there was no hope to get quality processing solutions. That's what APS does.
Alternative Payment Systems not only connects CBD merchants with industry-leading processing products, but we also give our clients the most options. Sadly, because of the way the CBD retail space is positioned today, CBD merchants definitely don't have lots of options regarding credit card processing. More or less, they have to take what they can get. Moreover, they have to kiss the butts of their processors to make sure their merchant accounts don't get shut down!
Expect the Inevitable for Now
At APS, we believe that competition is a good thing. Specifically, we believe that banks should compete for your business. As the laws regarding marijuana and CBD oil continue to become more liberal at the state level, we think that it's only a matter of time before the federal government follows suit. When that happens, the banks will really be competing for your business! But as for now, APS can give you the best options as we partner with more than 40 banks in our network who are hungry for good business. Still, you should know a couple of things.
1. Even with the best credit card processing solution, you will still pay higher rates than you want to. The standard rate for CBD credit card processing is between 5.9% and 7.9%, much higher than low-risk processing.
2. You will be required to have a reserve. This means that your credit card processor will keep up to 10% of all the money you earn on transactions usually for the first six months or more. After that, you will be able to get your money.
3. Credit card processing is a, not a right. Credit card processors exist for the same reason you do - to make money! Therefore, if you experience more than 1% chargebacks, you run the risk of being shut down, and many processors seem too eager to shut down their clients!
CBD is a Lucrative Industry Despite the Processing BS that You Will Go Through
Again, Alternative Payment Systems can connect you with great processing alternatives, but you're going to pay more! CBD, although it is a safe and wonderful product, is a high-risk industry for the banks, and they care more about protecting themselves than they do about your right to be a merchant.
Even though finding a credit card processor for CBD products can be difficult, it's worth it to endure. If you're reading this now, then you're in the right place. Contact Alternative Payment Systems to get started with quality credit card processing today.