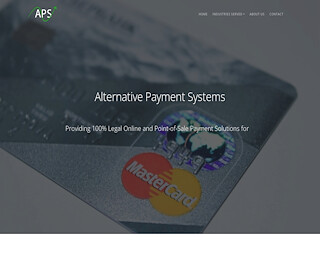 Alternative Payment Systems (APS) is a high-risk CBD payment processor, providing affordable and comprehensive payment processing solutions for CBD vendors looking to get started online or to expand an existing CBD enterprise. APS is the company merchants turn to when they've been denied everywhere else. This is not because we're the last choice, but because most people usually don't find out about us until they get desperate and start searching for alternative payment processor solutions. That's what we offer - Alternative solutions!
APS is More than a Payment Processor
From A to Z, Alternative Payment Systems makes payment processing easy for our CBD merchants, beginning with a simple and straight-forward application and fast approval so our merchants can get down to business right away. We connect CBD merchants with payment processing products that will not only enable them to conduct business legally, but we connect them with financial products that will also help them grow their businesses.

You Need a Payment Processor that Believes in You and Believes in CBD
Your health and wellness business does (or will do) great things for people who need quality CBD products to alleviate a wide range of symptoms. CBD, although it is a dietary supplement and not a drug, is widely considered to be the 'miracle drug' of the modern era because of its amazing healing and wellness powers. Sadly, although it shouldn't be, CBD retail is considered to be a high-risk industry by the banks and financial institutions. Therefore, these institutions have set forth a criteria that makes it incredibly difficult for CBD merchants to get approved for payment processing. That's where APS comes in!
If you are a CBD merchant, Alternative Payment Systems believes in you, and we believe in your products. APS is CBD payment processor that is dedicated to supporting legitimate CBD merchants as much as possible. With us, it doesn't matter if your CBD is hemp or marijuana-derived. We provide payment processing for both hemp-based and marijuana-based CBD products.
Take Advantage of Stellar Support and Comprehensive Processing Solutions
While Alternative Payment Systems proudly boasts the industry's lowest rates and leading application approval, our customer support service is nothing to take for granted either! APS gives our clients access to live chat support 24/7 to answer questions or help to troubleshoot and fix problems right away.
APS offers payment processing solutions for both online and brick and mortar CBD retailers. Our POS systems and terminals integrate seamlessly into your current operating system and update automatically without interrupting your flow of business. Our CBD payment processing solutions accept eChecks, credit/debit cards, and other cashless payments.
Trust APS
Alternate Payment Systems is the best alternate CBD payment processor on the market today. Get the payment processing solutions you need to grow you business, expand your brand, and increase your bottom line. APS is a dedicated high-risk payment processor, helping CBD businesses all across the world to get their products into the hands of people who need them.