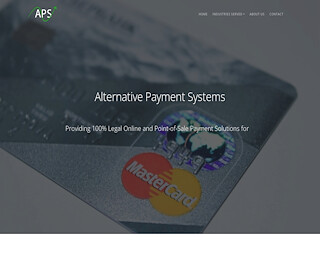 Alternative Payment Systems (APS) provides premium CBD merchant services to CBD retailers in need of legal payment processing solutions. APS is a one-stop shop for all of your high-risk merchant needs. Let's discuss the biggest threat you face as a CBD merchant and how you can protect yourself by choosing the right payment processor.
Your Biggest Threat is Your Processor

Did you know that your number one risk as a CBD merchant is being shut down by your payment processor? But why would a CBD merchant be shut down after being approved? You will be shut down if your chargebacks exceed 1%. This means that out of every 100 transactions; if you have more than one transaction that is disputed, you run the risk of having your merchant account shut down. Take heed. Other merchant service providers aren't going to tell you this! Knowing that this is your number one risk, there are a couple things you can do to mitigate that risk.
Stop Fraud Before it Happens
The most important thing you can do is to look for CBD merchant services that help you fight fraud! You must also be proactive about protecting yourself from fraud. For example, if somebody buys something from your website using someone else's credit card, and it's fraud, it will be viewed no different than a dispute or a chargeback. It is a transaction that comes back to you and gets charged against your account. Therefore, you must be proactively looking for fraud! But what do you look for when searching for fraud? Look for:
Orders that are going to far away locations
Email addresses that don't exist or don't make sense
Next-day orders because most fraudulent purchasers usually select next-day delivery
If you feel that there might be a fraudulent order, call the customer and thank them for their purchase. If you can't reach the customer; if the number has been changed or disconnected, don't ship the order! Send an email indicating that you've put a hold on their order and ask them to contact you immediately.
Have a Kiss-Butt Policy
The other thing you can do to protect yourself from having your account shut down is to make it very, very easy for your customers to return their products! Make sure that if someone sends an email to return, it goes directly to your email. Scan all emails that come into Support. Even if it's a weekend, night, or holiday, you want to give them a refund as fast as you can so that the customer doesn't even think to contact his/her credit card provider to dispute the charge. Have a kiss-butt policy! If someone doesn't receive their product or isn't happy with their product, send a replacement overnight.
For honest CBD retailers, this doesn't happen much! You should not experience more than two or three customers a month who, for whatever reason, claim that your products didn't work for them or weren't satisfying. Don't ask questions! Immediately give them their full refund.
It's better to absorb the loss than to have a chargeback or a dispute. Do what you have to do to keep your customers happy, even when they're wrong! This way, you will protect yourself from the number one threat to your CBD merchant services, which is having your account closed by your provider. Alternative Payment Systems provides merchant services that include fraud protection.