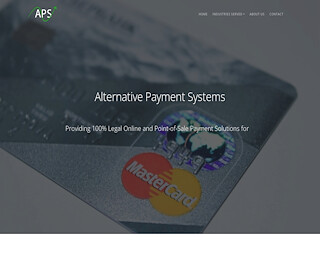 Speak with an advisor from APS when you need a CBD merchant account on Shopify. We can help you get set up with online credit card processing, including domestic and international accounts. Give your online customers another reason to choose you when shopping for CBD by making it easy for them to check out with all of the products they want in their cart. It's easier than you think when you reach out to APS Alternative Payment Systems.
What is a High-Risk Seller?
If you maintain a website or brick and mortar location that sells CBD, recreational marijuana, or hemp products, you're considered high risk by the banking industry, so it can be extremely difficult to get approved for a merchant account. Point of sale purchases and online purchases are dependent upon you having a way to process credit card and e-checks, or you'll find it impossible to compete with others in your industry. At APS, we understand the unique challenges you face in your effort to open a CBD merchant account on Shopify, and we are here to help throughout the process.
Can I Process E-Payments As a High-Risk Seller?
While conventional banks and credit unions will tell you there is no way you can get approved for a CBD merchant account on Shopify, APS can offer alternative solutions to help you get approved. We work with more than 40 different domestic and international lenders, so you'll find more options when you turn to us. If you have questions or need to speak with one of our experts, feel free to reach out by phone or through our website's contact form. You'll also find additional information on the services we provide when you explore our site.
We Believe in Our Clients
It's not easy competing in today's marketplace as a high-risk seller; APS is here to come alongside CBD sellers and smooth out the rough spots while growing your business. It may seem like an uphill climb, but in the end, you'll find it was worth the effort creating a streamlined process for your customers to do business with you- and they'll thank you for it with repeat business. When you need e-commerce solutions, APS is the right call for your growing website or local store.
Why APS Alternative Payment Solutions?
Don't make the mistake of trying to grow your CBD business without efficient e-commerce in place. Many have tried and failed in their effort to take shortcuts. In the end, you'll need a quick and easy way for your website's visitors to place the items they want to purchase into a shopping cart and checkout effortlessly with their Mastercard, Visa, PayPal card, or e-check. When you're ready to take the next step with your business, reach out to APS for affordable CBD merchant account Shopify solutions that lead to growth in business and more sales each month. We are a trusted service provider to the cannabis and CBD industries.