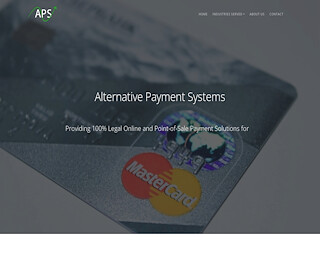 As a medical marijuana dispensary owner or manager you know the difficulties you may have in finding payment processing services. Up until now you may have had to take cash only for payments. This could be costing you a lot of sales because most customers prefer to pay with a bank card. If you have had trouble finding an  Cannabis payment processor, help is here. At Alternative Payment System we specifically work with dispensaries and CBD and hemp businesses to find the best and most cost-effective alternative payment solutions possible.
Cannabis Payment Processor Solutions
At APS we offer a selection of Cannabis payment processor options. We work with more than 40 banks and financial institutions both domestically and internationally to bring you the best and most affordable solutions for your business.
Because Cannabis dispensaries are often considered high risk businesses, you may not have been able to find quality payment processing options that are also cost effective. As a result, you may be losing business because you can't accept bank card or e-check payments.
Some of the solutions that we help you find include merchant accounts, banking options, cashless ATM, wireless solutions, e-checks and point of sale systems and terminals. We also assist in locating financing solutions to help you grow your business.
Some important factors to consider include the ability to accept major bank cards, an easy set-up process, card swipe terminals and direct deposit of funds to your account, among others. You can choose the services that you need for your business and we will help you find a suitable Cannabis payment processor.
How APS Helps You Grow Your Business
Having the right Cannabis payment processor in place will help you increase sales and improve your bottom line. As your business grows, you may be ready to expand or add another location. We will help you find the financing that you need to meet the needs of your growing company.
At APS we understand your type of business because that is all we do. Our team of professionals is trained to find the most appropriate solutions that will fit your needs and add to your bottom line.
We assign you a dedicated relationship manager to work with you throughout the process. Your RM will learn the important needs of your business and then locate the best banks that provide suitable solutions. Our goal is to help you improve your business and obtain more sales. We help you get the most from your business.
Every business can benefit from the use of increased customer payment solutions. A point of sale system will give you and your customers the flexibility to increase sales. The Cannabis dispensary business is a growing one and you can take advantage of the trend by offering your customers additional payment choices.
In addition to point of sale terminals and system we can also help you find solutions to grow your e-commerce business. Contact APS today to learn how we can assist you with all your business financial needs.