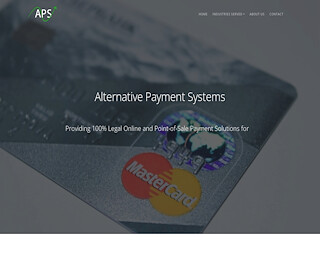 As a medical marijuana dispensary you have the need to provide for your customers, just like any other business. Unfortunately, Cannabis dispensaries are often considered to be high risk operations and therefore the ability to obtain an Cannabis merchant account has been limited. Fortunately, there are some options for those who wish to provide payment processing solutions.
Cannabis Merchant Account Solutions
A merchant account is a necessity with every type of business. Because Cannabis dispensaries are high risk you may find that the solutions available are limited and the ones that are available are expensive. At Alternative Payment System we provide a wealth of resources that are available for Cannabis customers. We specialize in working with a number of banks and financial institutions to find you the best and least expensive alternatives for an Cannabis merchant account.
At APS we work with more than 40 different banks so we have a wide selection of options on which to draw. We assign a dedicated relationship manager to your account. Your relationship manager will learn all of your needs and work closely with you throughout the process. Then, we match you with the best Cannabis merchant account solutions that fit your requirements.
There is no one-size-fits-all when it comes to finding merchant banking solutions. We understand the many needs that Cannabis dispensaries may have. Some of the solutions that you may need include both domestic and international accounts, banking options, point-of-service systems and terminals, cashless ATMs, e-check processing and wireless solutions.
Improving Customer Choices
Your customers want to be able to have alternative payment methods. Today, most people want to be able to process a payment using their debit or bank card. At the same time, you want to make sure that the options you provide are reasonably priced so you don't have to pass the excessive fees to your clients. We will help you find the solutions that will allow you to serve your customers while also meeting your budgetary restrictions.
With our help you are sure to find a solution that is best for your needs. We draw on our experience and expertise with Cannabis merchant accounts to assist you in finding the one that will fulfill your needs. We will also be able to assist you in finding a loan.
Because of the high risk associated with the Cannabis industry, financing is sometimes difficult and expensive to obtain. Our team is continually reviewing banks and other financial options to find the best offers for Cannabis companies. When you obtain a loan you can use it for any of your business-related needs.
With our help you can provide improved customer service and partner with a banking institution that will give you the support you need for your business. You can customize your solutions to fit your needs. We are here to assist you every step of the way. Contact us with any questions you may have and to get started with the process of finding the merchant solutions that you need.
Cannabis Merchant Account